If you have trouble recruiting people into your business then this article is especially for you.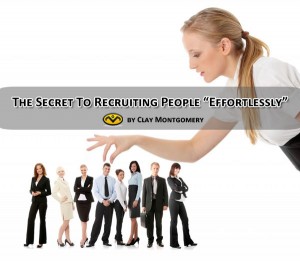 The average network marketer recruits one and a half people. That's not one and a half per week. And it's not one and a half per month. It's one and a half total.
I heard Vick Strizheus once say that he sent his entire list a survey to see where they were at and what they needed help with. There were several questions in the survey but two of them really stood out. How much are you currently earning per month online? More than 90% said they were making less than $500 a month. The other question was, What is it that you struggle with the most? An alarming 86% said they struggled with traffic and lead generation.
Without a constant supply of fresh leads coming in, you can't possibly recruit people into your business. If you had just 10-15 new leads coming in every single day, what do you think that would do for you?
Now, what if 10% of your leads actually came to you, some of them practically begging you to let them join your business? And what if you could still make money from the other 90% who never join your business? Okay, hold that thought for a moment.
Tell me if you recognize any of these names:
David Wood, Ray Higdon, Toby & Layla Black, Adam Chandler, Rob Fore, Bill & Michelle Pescosolido, Tracy Walker, Diane Hochman, Jonathan Register, Lawrence Tam, Nicole Cooper.
I could go on and on but that's enough for now. Do you know what all these people have in common? They all learned the principles of Attraction Marketing and became top earners in their company. I guarantee you at one point every one of them had all kinds of trouble recruiting people until they learned how Attraction Marketing makes it almost effortless.
The secret to recruiting people effortlessly is not really a big secret at all. You simply lead with value by offering a solution to other people's problems.
Remember what Vick's survey results showed? Almost every network marketer struggles with lead generation. What if you could provide a solution to some of those people? Do you think they would consider that valuable information? Enough so that they would be willing to opt in to your list? Let me tell you, if your lead capture page was a door, they would be knocking your door down.
So, the question now is, how are you going to be able to provide a solution to all those people? Especially when you suffer from the same problem.
That's where MyLeadSystemPro (MLSP) comes in. MLSP is so much more than just an Attraction Marketing system. They do of course teach you everything you need to know about how it works and how to implement it. Attraction Marketing is all about branding YOU. You don't want to brand your network marketing company. You promote yourself and brand yourself and thereby gain loyal followers who see you as an expert.
Network marketing is all about building relationships. Advertising your business isn't going to work nearly as well to recruit people because people don't get a chance to know, like and trust you. Think about it like this… let's say you have a date with someone tonight and it's your first date. At the end of the date you ask that person to marry you. That person is probably going to run away so fast they leave skid marks. Why? Because you never built a relationship with them.
This is where the real sweet spot is with MLSP. They give you access to a long list of training products and webinars that you can give away to get people to opt in. Training that solves the exact problems they are struggling with. Then you keep giving them more and more training that's all geared around lead generation and attraction marketing. Everything is already done for you so you don't have to create anything yourself. Including the funnels with lead capture pages. Many of the free trainings also have a related product on the back end and when people buy them you make money. Some will join your business with you. Some will join MLSP under you. Either way you make money, build your list, and build a loyal following. And because you are giving people so much value and solving their problems, they will know, like and trust you. You will begin to see people joining your business without you ever going to them first.
That, my friend, is the secret to recruiting people 'effortlessly.' It's almost like passive recruiting and it's a lot more fun than anything else you've tried.
MLSP also now includes a fully hosted WordPress blog and dozens of premium plugins. Enabling your blog takes a few seconds. They call it MLSP Sites. Blogging is a great way to keep on giving away value, which generates more and more leads. If you're worried about what to blog about, don't even think that. Ray Higdon is a 7-Figure blogger and a leader in MLSP and he provides lots of training on blogging. He teaches what he calls the ILT method. Invest, Learn, then Teach. So you invest in something related to a topic you want to learn about for yourself that's also probably something other people want to learn, too. That could be a book, a webinar, a full course, etc. What you learn, you take notes on and that gives you plenty of topics to talk about on your blog. Believe me, if you use the ILT method you will never, ever run out of things to blog about.
The whole point I'm trying to make here is if you want to earn a life changing income in network marketing you have to be able to recruit people as new reps or distributors. That's how MLM companies work. There's no doubt that anyone can make a lot more money in network marketing than with just about any type of job.
If you have tried hitting up friends and family or you tried to figure out different ways to get traffic by promoting your business directly, yet you're still not able to recruit people into your business, then you know something has to change.
INSANITY – Doing the same thing over and over again and expecting different results. Â –Albert Einstein
On the other hand, if you haven't tried the Attraction Marketing angle, you just found the one thing that always works.
Before I tell you where to go to get started with MLSP, I want to make you aware of the fact that there are two different membership levels available. One is called University and the other is called Mastery. University is $50 a month and you get a LOT for your money. Mastery is $150 a month. I'm a Mastery member myself.
The main differences with the Mastery membership are more money, more training, and more advanced training. There are also some products included with Mastery that are not included with University. The things I looked at the most before I decided was the commissions and the training.
University members earn 30% commissions on just about everything. Referred members, products, etc. That can be increased as you move up through the leadership ranks. Mastery members earn 30% on University referrals but earn $100 a month on Mastery referrals (so about 66% commissions on that). On the basic MLSP products, Mastery members earn 30% there, too. There are also a bunch of really nice and popular products that Mastery members earn 100% commissions on. And whenever someone joins MLSP using your link, they will always see one-time-offers. Not everyone buys them but some people do. If you are at the University level you would earn 30% commissions. If you are at the Mastery level you earn 100% commissions on the one-time-offers. Like I said, Mastery means more money.
The other big thing I looked at was the training. Mastery members get access to the training vault, which is every piece of training MLSP has done since they started back in 2008. There are literally hundreds of things in there that cover every traffic and lead generation method you can think of. And I wanted access to all of that.
Whichever membership level you choose, you cannot go wrong. As long as you do join MLSP as soon as possible. I think anyone serious about making life changing money in network marketing should start with MLSP. Anything else will have you chasing your tail and emptying your wallet with very little results and a whole lot of frustration. MLSP will show you how to attract people to you so they are the ones chasing you down instead of you chasing prospects down all the time.
CLICK HERE and after you join, know that I will be here to help you in any way that I can.
PS. Â I would read through that page entirely. There are many features with MLSP that I haven't even mentioned here.
If you enjoyed this post on The Secret To Recruiting People "Effortlessly," retweet and comment please